Online vets in
Fredericksburg
Talk to a vet using the Vetster video app about your pet's health and wellness, when you need to, wherever you are.
Vets in Fredericksburg are rated
Search, select, and book an appointment with a vet that fits your schedule, budget, and pet needs. All appointments take place virtually, over video or text.
Convenience.
Book according to your schedule and budget.
Trusted experts.
All Vetster vets go through rigorous screening and are certified in their fields.
Simple connections.
Talk to a vet by video or text, from any device.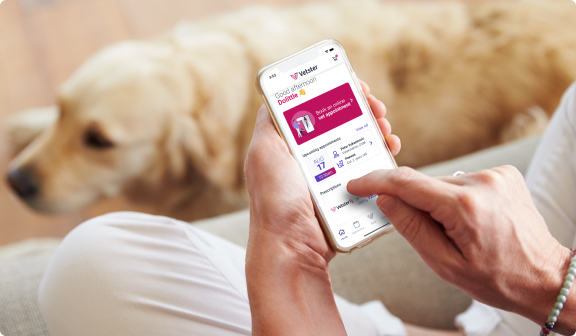 Find the right vet for your pet
No matter the species, you can get help online by a licensed Fredericksburg vet!
What can virtual vets treat?
Vets in Fredericksburg can talk you through a variety of health issues and offer guidance for taking care of your pet. They can work with new and existing patients to understand health and wellness issues, and in some cases they may prescribe medications, offer over-the-counter suggestions, or just leave you with the peace of mind of knowing your pet is in good hands.
Top Activities for Pet Owners in Fredericksburg
Just slightly west of the Potomac River, you'll find Fredericksburg, one of the historical cities in Virginia. If you've moved here with pets or you're thinking about adopting one, it's important that your pets feel just as loved as you do living in the area. Here are a few pet-friendly locations that you can visit for a better pet experience in Fredericksburg.