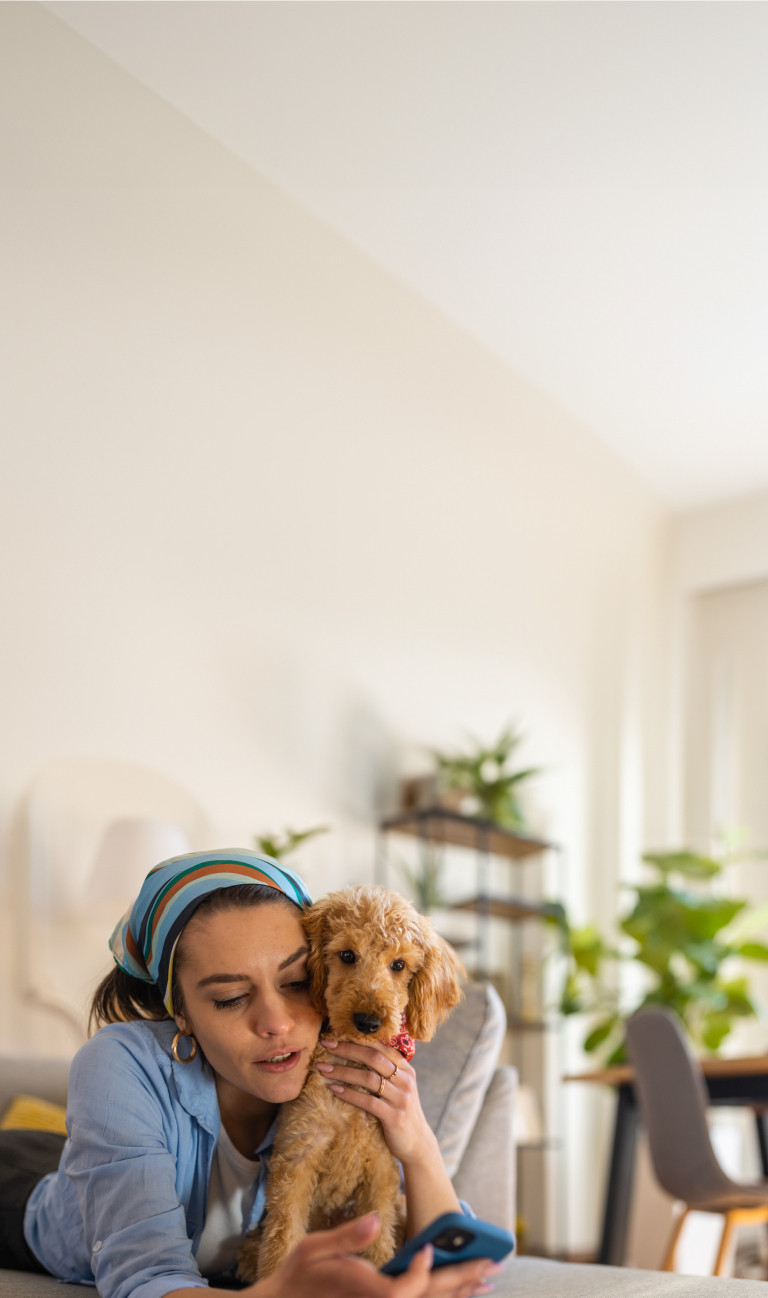 Unlimited access to
veterinary care from anywhere
Subscribe to Vetster Unlimited for help with things like pet nutrition, behavior, urgent advice, and more — all for less than a dollar a day.
Hi Jenna, how is Jax feeling today?
Less itchy thanks to the meds Dr. Jo prescribed.
Should I adjust her food too?
Great question, let's do a nutrition review together.
Why you'll love it
Connect with a veterinary professional by live chat or video call

Stop stressing about your pet's health. Talk to a veterinary professional via live chat or video and get expert advice tailored to your pet 24/7.

Choose the veterinarian that's right for you

Only Vetster has thousands of top-rated, licensed vets so you can choose the one that's best for you and your pet.

Access hundreds of prescription and over-the-counter products

VetsterRx Online Pharmacy offers a full catalog of prescription and non-prescription medication so your veterinarian can provide your pet with the care they need.

Keep tabs on your pet's health

Vetster stores all your pet's health info in one place so you can keep track of appointment history, your pet's weight, medical records, lab reports, and photos.

Predictable pricing for your unpredictable pet

Get professional care when you need it with transparent, upfront pricing that makes pet care costs easy, accessible, and stress-free.
Vetster Unlimited

your all in one pet health app
Everything your pet needs
Expert care when you need it
Store your medical records
VetsterRx Online Pharmacy
Live chat, anywhere
Answer all your questions
Help for urgent issues
Nutrition and behavior coaching
Expert veterinarians, anytime
Appointments when you need them
Thousands of vets to choose from
Prescription and OTC medications
What pet parents are saying...
FAQ
What is Vetster Unlimited?

Vetster Unlimited gives you unlimited access to virtual appointments with a licensed veterinarian and live chat with a certified veterinary professional for help with pet health, behaviour, nutrition, urgent advice (and more) at an affordable cost.
How much does Vetster Unlimited cost?

Vetster Unlimited plans start at just $29.99/month. Your subscription includes unlimited access to virtual vet appointments and live chat with a certified veterinary professional. Plus, you'll also get access to the VetsterRx Online Pharmacy with hundreds of prescription and over-the-counter products you can purchase for an additional cost.
How many pets are covered under a Vetster Unlimited plan?
How does billing work?

Billing for your Vetster Unlimited plan occurs either quarterly (every three months) or annually (once a year). You can select your preferred billing option when you sign up, plus there's an added discount if you opt for annual payments.
Can I cancel my plan?

We offer different subscription plans (see above) to ensure that anyone on any budget can afford quality pet care. By choosing a subscription, you commit to a minimum timeframe that your pet can receive unlimited Vetster services. You may cancel your subscription at any time, but your membership must be canceled before it renews in order to avoid the next billing cycle.
*Products, shipping and related fees are not included in Vetster Unlimited subscriptions.
Terms and Conditions