Dr. Sarah Machell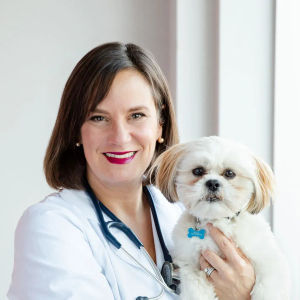 Just like in humans, cats who are experiencing some sort of illness or injury can develop a fever. Keep in mind, though, that a cat's regular body temperature is higher than ours, so a general feeling of warmth may not be as bad as you think.
Should I be concerned about fever in cats?
For cats, a normal temperature ranges between 100º to 102.5º. Anything over 102.5º is considered a true fever in a cat. If your cat is already being treated for something, it's likely the fever is related to that illness. But if they develop a fever out of nowhere that persists for more than a day, you should take them to the vet.
What are the potential causes of fever in cats?
It's impossible to know exactly what is causing your cat's fever without taking it to the vet. Some potential conditions include:
Infection, which will need medication to treat.
Tumor, which will require surgery or chemotherapy if it's -
malignant.
Trauma, usually from an injury that you've likely already seen your vet about.
Medication, which doesn't need treatment unless it's an unexpected side effect.
Immune disorders, which will require a vet visit to maintain.
Fever of Unknown Origin, which is a fever with no explanation for more than a few days.
What are the different versions of fever in cats?
A standard fever in cats is anything between 102.5º and 105.9º. Anything over that is a severe fever and needs to be addressed immediately, as it could shut down or damage critical organs.
What are the next steps and tests for fever in cats?
Once your vet has discovered that your cat has a fever, they'll need to run tests to see what might be causing the problem, like an immune disorder or an infection. In the meantime, your cat might be put on an antibiotic, which could resolve the fever completely.
What other symptoms are often associated with fever in cats?
Fever in cats can be a symptom of a larger issue like lingering trauma from an injury, but the fever can come with symptoms of its own, such as:
Lethargy
Loss of appetite
Lack of thirst
Dehydration
Rapid heart rate
Shivering
Vomiting
Diarrhea