Dr. Sarah Machell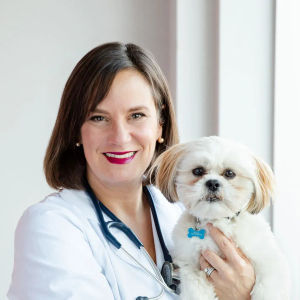 Nobody really wants to watch their dog pee. But it's probably a good idea, at least every now and then. The color of your dog's urine can tell you a lot — and if it's dark, that might signal a problem, like dehydration or liver damage.
Should I be concerned about dark urine in dogs?
How concerned you need to be about dark urine in dogs depends on the color, the smell, and how long it's been dark. It's completely normal for color and concentration to vary in healthy pets. Dark yellow can just mean they're a little dehydrated. Give them some extra water for the next day or two and if that doesn't resolve it, then go to the vet. Any other colors (with the exception of a brick red hue, which is an emergency), or any weird smells, should be given a day to resolve on their own in case it was something they ate. If it doesn't get better go to the vet. The key concern is something abnormal that goes on consistently for a few days.
What are the potential causes of dark urine in dogs?
Your dog's urine actually tells you quite a bit about their health. Here are some of the potential causes of the color change:
Dehydration, which can be treated with extra fluid.
Muscle damage, which can often be resolved with rest but should be evaluated.
Liver concerns, which your vet should evaluate for treatment.
Blood loss, which will need to be tracked to the source by your vet.
Ingestion of toxins, which your vet may be able to treat.
What are the different versions of dark urine in dogs?
Different colors of urine can mean different things:
Dark yellow can mean your dog is dehydrated.
Orange can indicate muscle damage or jaundice.
Red or pink can mean there's blood in your dog's urine.
Brown urine can indicate muscle damage, blood, or liver disease.
Black colored urine can show significant blood loss, muscle damage, or toxins.
What are the next steps and tests for dark urine in dogs?
When you take your dog to the vet, make sure to bring a urine sample along. The vet will analyze it to see what's in it, which will help them understand what other tests need to be done to determine the root cause of dark urine, like blood loss or muscle damage. Your vet will likely also do an X-ray to look for bladder or kidney stones and an ultrasound for potential tumors.
What other symptoms are often associated with dark urine in dogs?
Dark urine in dogs presenting with other symptoms can help you tell whether it's an emergency or not. Watch for these signs:
Lethargy
Pain while urinating
Lack of urination
Excessive thirst
Pale or yellow gums
Weakness
Other signs of bleeding, like black and tarry stools or bloody saliva, wheezing or coughing.